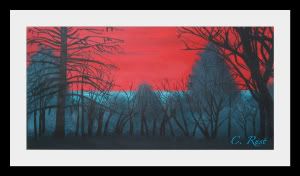 Red Sky Meets The Trees
10" x 20" Acrylic & India Ink on Archival Canvas Panel
I took out the mountains. Moved the lake down so you could just see it on the horizon. Colored it turquoise in keeping with the complimentary color scheme and the somewhat surrealistic quality I was shooting for. Used the complimentary color to make the evergreens, lake, and brush....and then...I decided to try using my archival India Ink pens that I had used on my drawing for the bare tree branches as an experiment as I didn't like how the brush strokes were looking.
It was an interesting challenge joining two different pieces together. I did make a few minor adjustments after this photo, just to help a couple small areas.